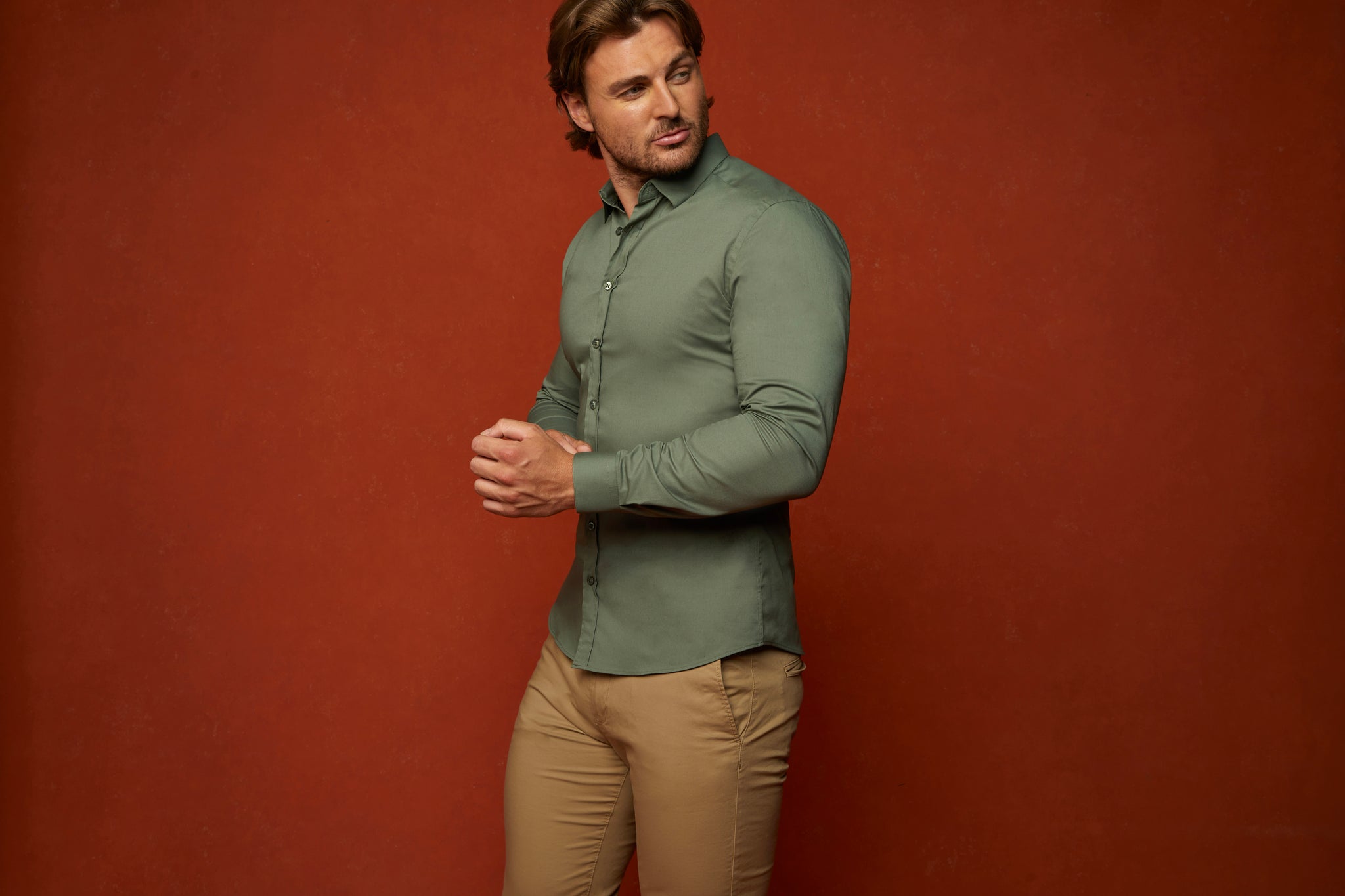 Muscle Fit Shirts | Signature TAPERED Fit Shirts
More than a Muscle Fit Shirt. Discover the World's 1st Tapered Cut. Our revolutionary v-tapered fit provides a 10" drop from waist to chest, eliminating bagginess around the waist whilst accentuating your muscular physique.
Muscle Fit Shirts For Men
Our mens muscle fit shirts are expertly designed for athletic shaped guys with wide shoulders and a narrow waist. Tapered Muscle Fit Shirts also available in short sleeve, are perfect for your v taper body. No more fabric pooling around the midsection, a fitted shirt from lats to waist. A fitted shirt from lats to waist with the worlds first V-Tapered cut shirt. Made from luxurious, high quality cotton available in an array of colours.
What to Look For When Buying Muscle Fit Mens Shirts
One of the most important things you should consider when purchasing muscle fit men's shirts is, without a doubt, the fit. This is not just any shirt; it's a muscle fit shirt specifically designed to flatter and accentuate your muscular shape. As someone who's committed time and energy into sculpting a muscular physique at the gym, you deserve a shirt that showcases your efforts, rather than hiding them under loose, poorly fitting fabric.
At Tapered we believe it's not just about vanity; it's about wearing a shirt that feels like it was made for you. A well-fitting shirt not only looks good, but it can also provide comfort and confidence throughout your day. It should hug your biceps, triceps, and pecs without feeling overly tight or restrictive. It should enhance your waistline without being too tight around the midsection.
What Makes Our Muscle Fit Dress Shirts Stand Out?
If you are looking for the best muscle fit shirts brand in the UK and won't settle for anything less than the best - stick with Tapered Menswear.
The brand was born out of our own frustrations of not being able to find shirts that fit. High street shirt retailers are based on classic designs that no longer suit the modern man. They are not only uncomfortable but ill fitting. Our unique pattern was developed over a 3 year period offering:
Signature V Shaped Cut
Enhanced Darts
Stretch Cotton
More than a Muscle Fit - Signature Tapered Fit For V-Shaped Physiques
Our revolutionary cut provides a 10" drop from chest to waist. Accentuating your physique whilst reducing bagginess at the waist.
Why Buy Muscle Fit Formal Shirts From Tapered Menswear
Having extensively researched the 'golden' shoulder to waist ratio for the perfect V-tapered fit, our team of leading tailors and industry experts has pioneered the world's first Tapered cut shirt. The final piece is what looks and feels like its tailored for you.
With a subtle logo stitched on the wrist makes them the ideal muscle fit formal shirt to wear to the office or any formal event. Whether you're looking for a black muscle fit shirt to wear to the office or a white muscle fit shirt for a wedding means you can add any colour tie without an obtrusive logo on the front of the shirt.
Other Styles You'll find At Our Muscle Fit Shirt Brand Online
Our Tapered fit shirts are one of kind - and they're just one of the types of product you'll find here at Tapered Menswear. We're your one-stop-shop for all types of muscle fit clothing: