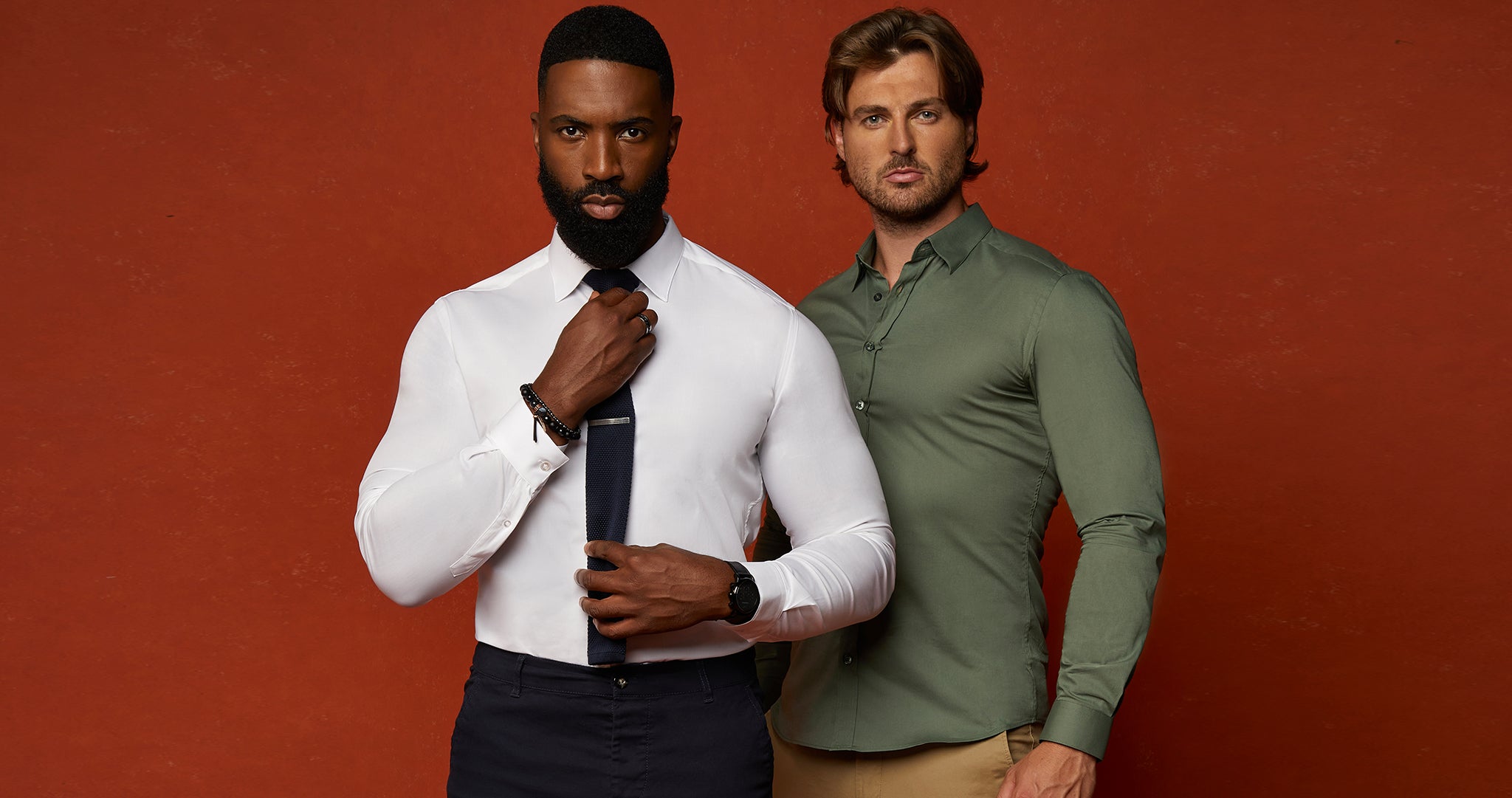 Welcome to the Tapered revolution
Our shirts are expertly designed to fit the muscular, V-shape physique.
"Our signature Tapered Fit Shirt was born through our own struggles of trying to find a shirt to fit our V shaped physique. Through this frustration, Tapered was created..."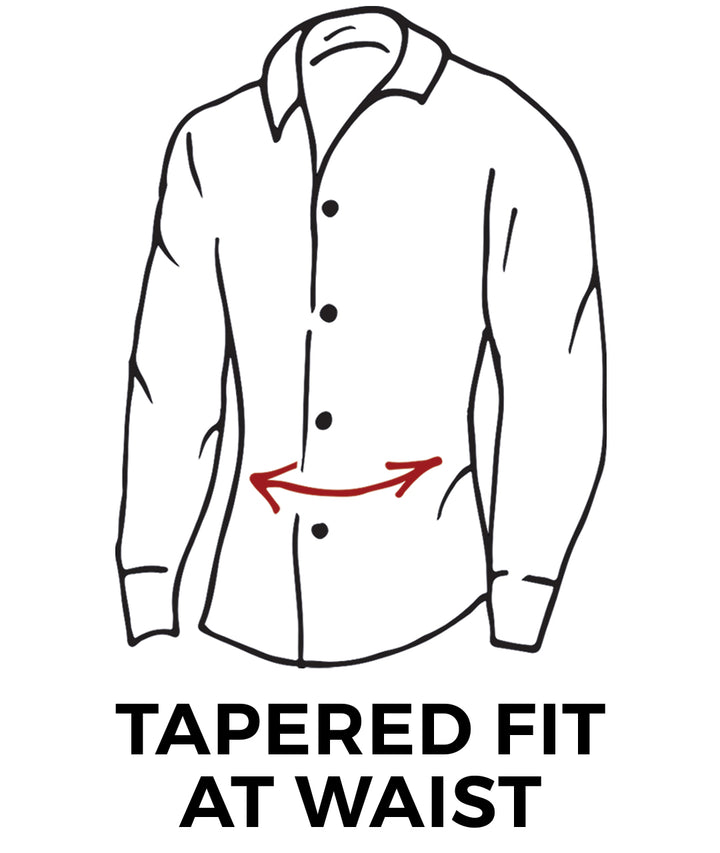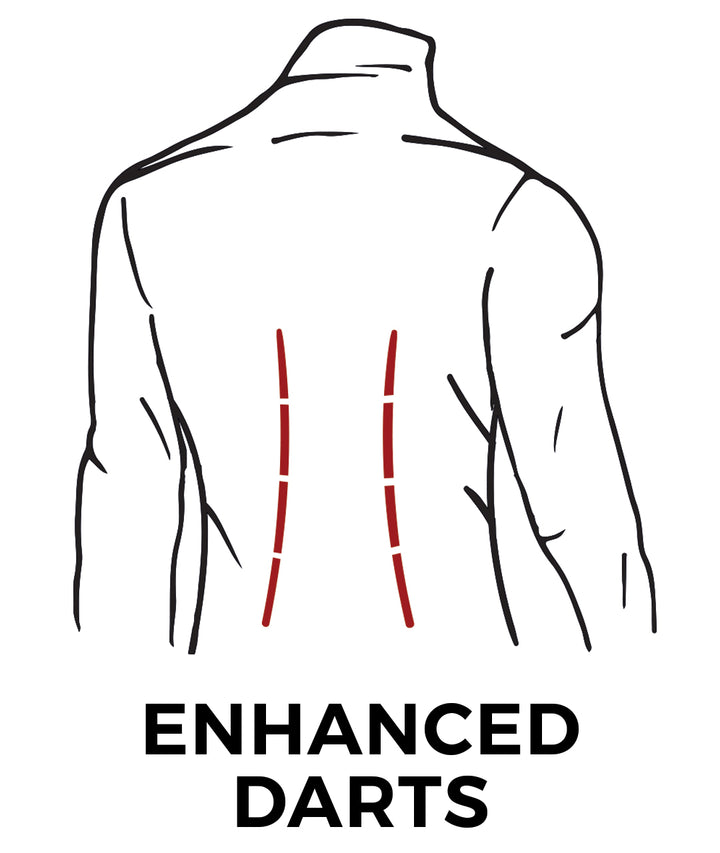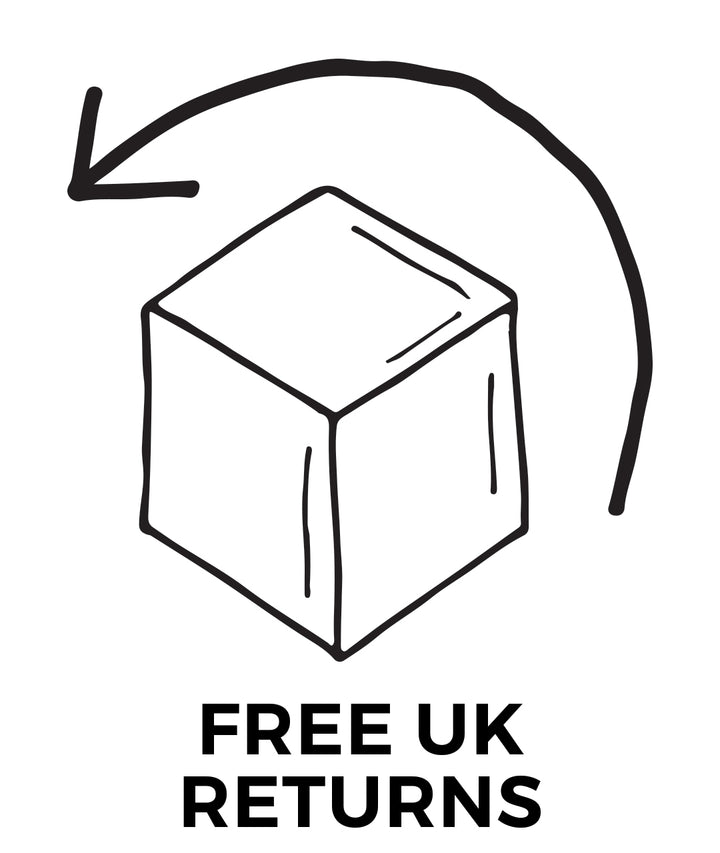 Introducing
The Worlds First V-Taper Cut Shirt
Our revolutionary cut provides a 10" drop from chest to waist. Accentuating your physique whilst reducing bagginess at the waist.
Providing more room in the chest and hugs the waist with enhanced darts like you would pay a tailor to do.
Having extensively researched the 'golden' shoulder to waist ratio for the perfect V-tapered fit, our team of leading tailors and industry experts has pioneered the world's first Tapered cut shirt.
Our uniquely designed shirts enhance your V-shaped physique by tapering in sharply at the waist for the perfect fit.
Welcome to the Tapered revolution; this is more than a muscle fit shirt.
Tapered Fit Shirt Features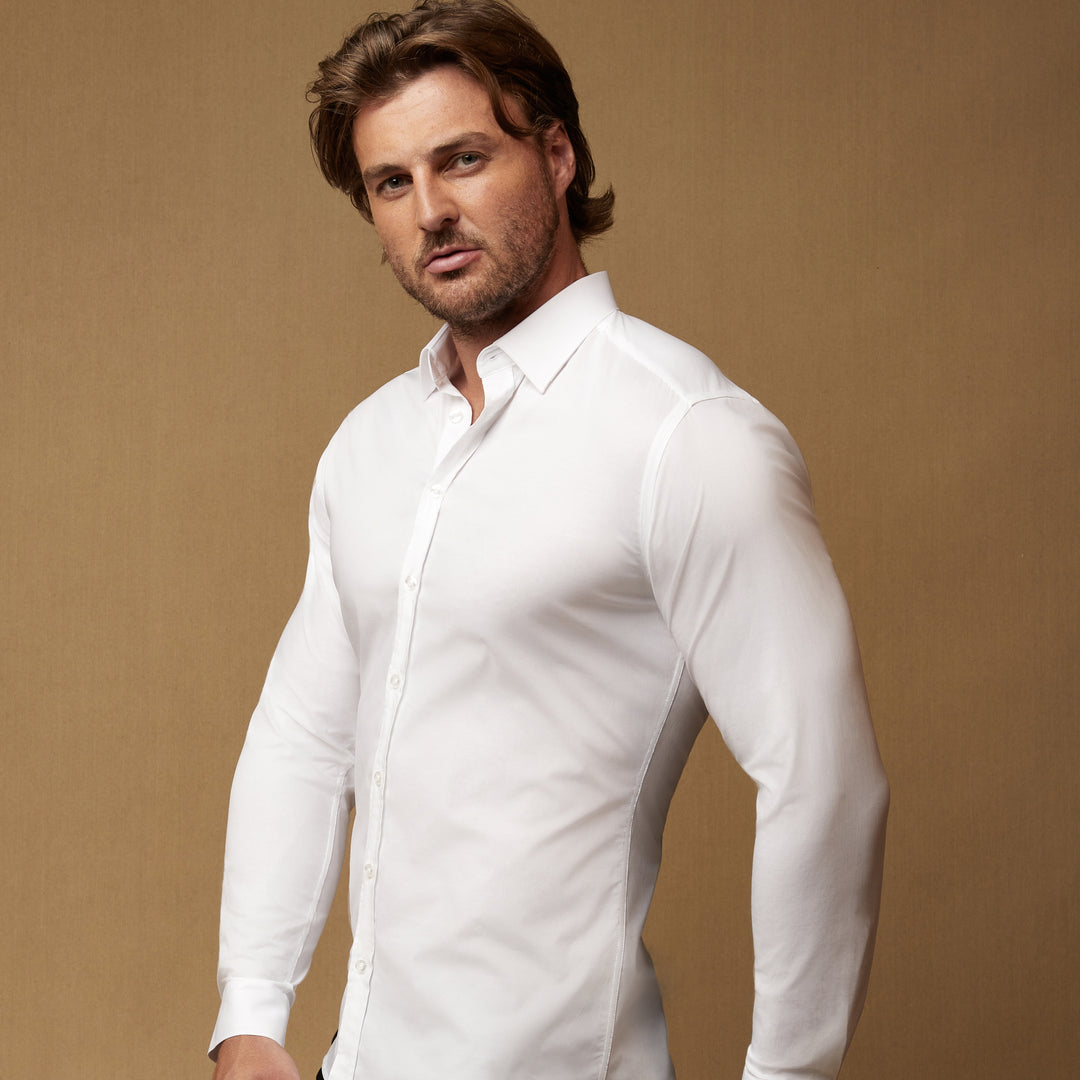 Signature V Shaped Cut
Our revolutionary cut provides a 10" drop from chest to waist.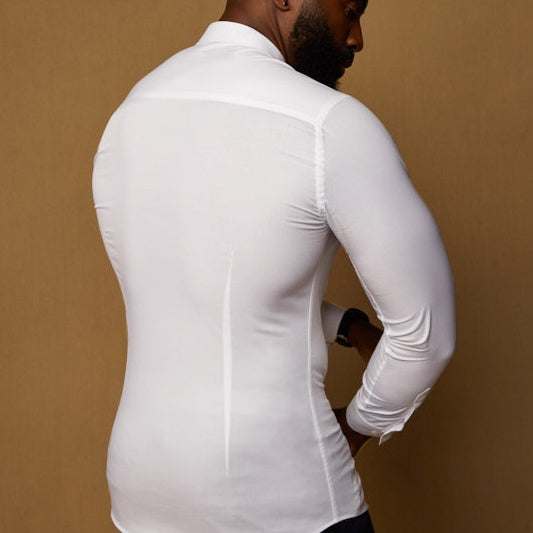 Enhanced Darts
Expertly tailored darts at the back, for the perfect fit.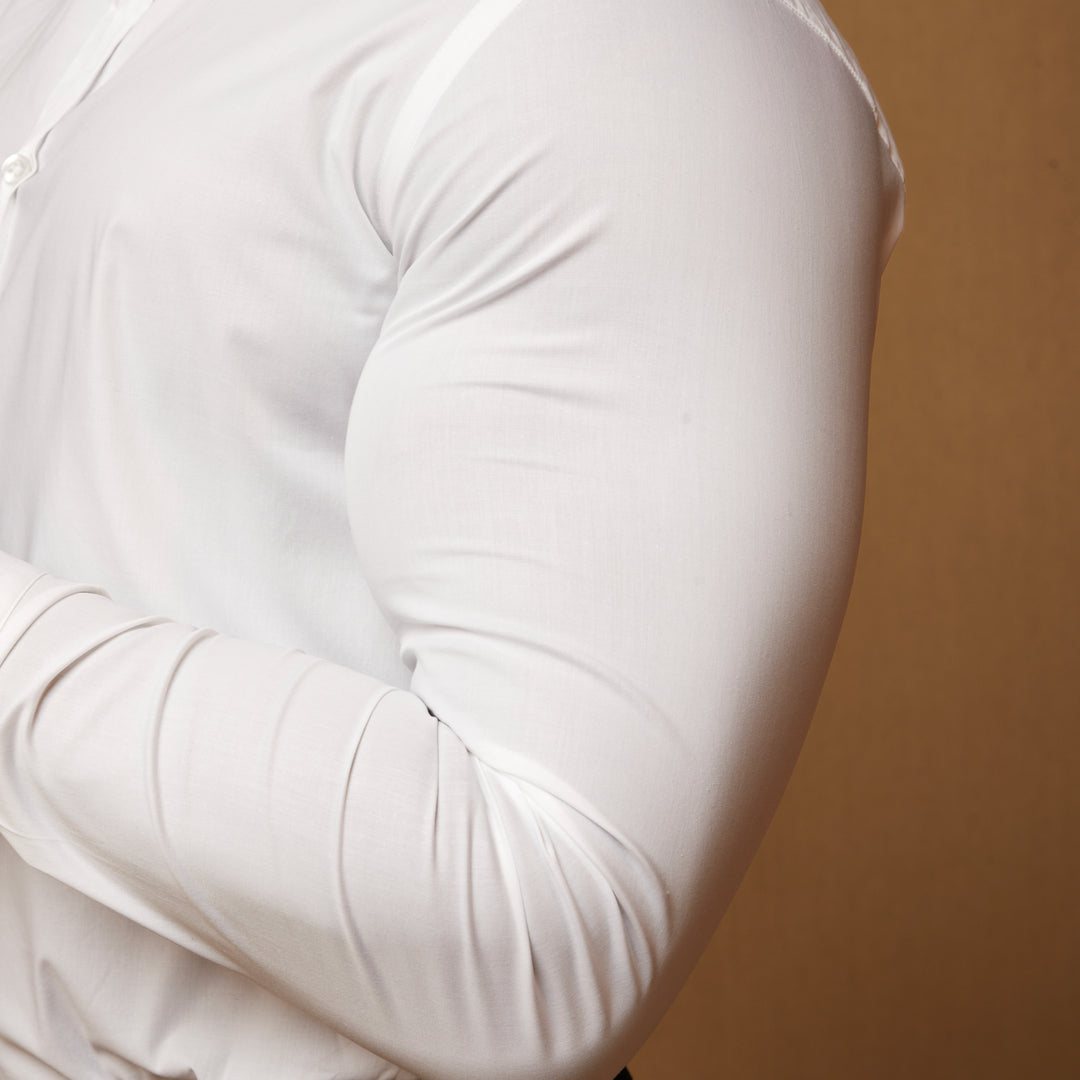 Stretch Cotton
Super soft, breathable and allows complete freedom of movement.
CEO SCOTT
The Tapered Fit Story
After meticulous planning over a 3 year period. Listen to how I created our signature fit.
Still unsure on the Tapered Fit? Check out our FAQs below
What Does Tapered Fit Shirt Mean?
Tapered fit is traditionally to "bring something in", so that it follows an inverted shape. With a tapered fit shirt this will mean a wider fit on the chest and shoulders and sharply narrowing down the waist. Usually the only way to naturallly achieve this look in a garment is through a tailor. but with the introduction of our very own Tapered Fit Shirts we provide a unique tapered fit but off the rack.
Although tapered fit typically relates to jeans we have applied this same shape to our shirts. A tapered fit is designed for athletic shaped guys that have a v taper torso bringing a whole new meaning to Muscle Fit Shirts.
Gone are the days that athletic shaped guys suffer from baginess around the waist and lower back or having to go to a tailor to taper their shirts for them.
Tapered Fit Shirt vs Slim Fit Shirt
The main difference between a tapered fit shirt and a slim fit shirt is the fit around the torso. The tapered fit shirt fits cloesly on the chest and tapers down sharply at the waist. Although slim fit shirts classify themselves as "slim" they are designed for the masses and still leave a lot of extra fabric around the waist.
Both the tapered fit shirt and slim fit shirt fit finely around the chest and shoulders but the tapered fit shirt fits closer around the lower portion of the torso.
Who Should Wear Tapered Fit?
Tapered Fit is designed for those with wide shoulders and a narrow waist. Our unique fit is cut for guys with a v shaped physique. This solves the problem guys face with regular shirts that sag around the waist due to excess fabric.
Is Tapered Fit Good?
Tapered fit will look good on those that have the physique for it. If you have a wider waist then our unique cut is likely to be tight in the wrong areas.
Is Tapered Fit Skinny?
Tapered fit has similarities to skinny in that it is tighter than a slim fit. But as we target athletic shaped guys we have more room in the biceps and collars to offer comfort in the right areas.
Tapered Fit Meaning
Tapered in general is an inverted shape that is wide on one end and gradually narrows towards the bottom. Our Tapered fit means exactly this where the tyop of the garment is wider around the chest and shoulders then narrows towards the waist.