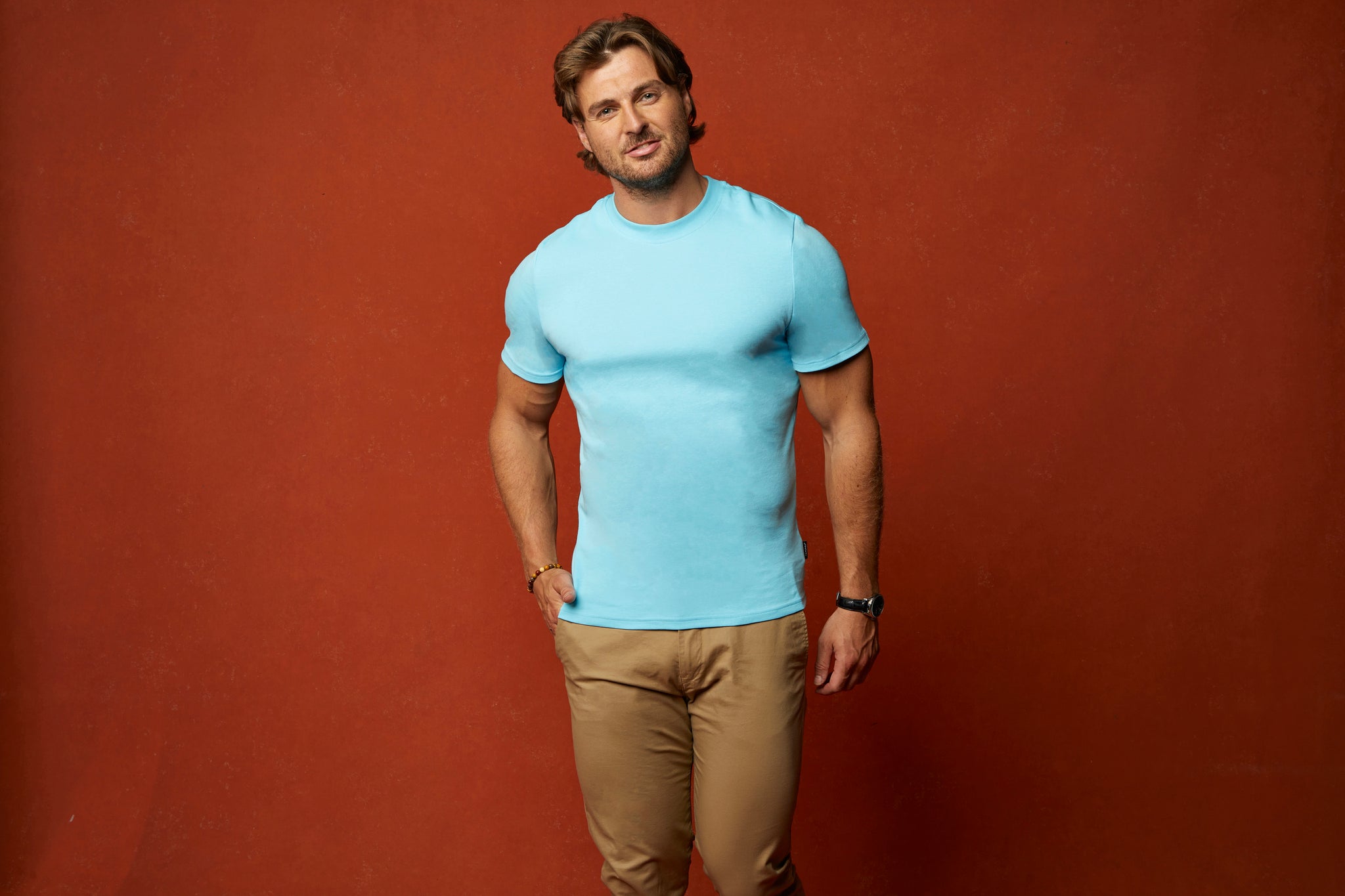 Tapered Fit T-Shirts
More than a Muscle Fit T-Shirt. Discover the

 

World's 1st Tapered C
ut, Fitted T-Shirt. 
Our expertly designed V-tapered cut, form fitting t-shirts for those with wide shoulders and a narrow waist. 
Mens Muscle Fit T-Shirts
Our mens muscle fit t-shirts are designed for muscular guys and bodybuilders. Our unique tapered fit is cut for a V Taper frame. Tapered Muscle Fit Tees on sale are made from luxurious, high quality cotton available in the basics and V-neck - white, black and navy blue. 
 What is a Muscle Fit T-Shirt?
A Muscle fit t-shirt refers to how a T-shirt is cut. In comparison to a regular fitting tee, they are a closer fit to the body. A classic fit or regular fit t-shirt are designed for the general population which doesn't suit the muscular physique. The Muscle fitted t-shirt is specifically designed for an athletic frame which provides more room in the chest and shoulders, fitted on the biceps and finley fitted around the waist. A muscle fit t-shirt has a number of benefits over a regular t-shirt:
Contours to the shape of a muscular body. Showcasing the V taper physique that bodybuilders have worked hard on obtaining.Contains stretch fabric to allow freedom of movement and maximum comfort. Cut higher up the bicep with a closer fit for those with larger arms.
At Tapered Menswear we have developed our own v-neck Muscle Fit T-Shirt with our signature Tapered Fit. Cut from the same unique design as our dress shirts for bodybuilders. Not only is the Tapered fit cut closer to the body than every other t-shirt but is made with heavyweight, premium cotton that feels luxurious. 
Best Muscle Fit T Shirts
After a 3 year journey on creating the best muscle fit shirts, we use that exact same Tapered cut for our T-shirts to provide the very best fabric and fit. We pride ourselves on providing the best muscle fit t-shirts the market has to offer today, no more fabric sagging around areas you want to show off.
Where to Buy Designer Muscle Fit T Shirts?
Now that you know you need a muscle tight t-shirt to fit your athletic frame like you deserve. You put all that work in the gym and your diet you need to find clothing that highlights your physique. You are likely wondering where to find the best muscle fit tee shirts online - look no further than Tapered Menswear. 
What Separates Our Form Fitting Mens T-Shirts From The Rest?
Form fitted t-shirts from Tapered will soon become your most complimented tee. We have a commitment to provide athletic guys, form fitting t-shirts that fit as they should.
This is more than a muscle fit t-shirt. Whether you are hitting the town with our muscle fit black t-shirt or dressing down in the office with our white muscle fit t shirt, you can rely on tapered to provide you with the fitted look you are trying to achieve. Don't just take our word for it, we have over 1000 verified reviews and seen in publications like GQ and Mens Health.