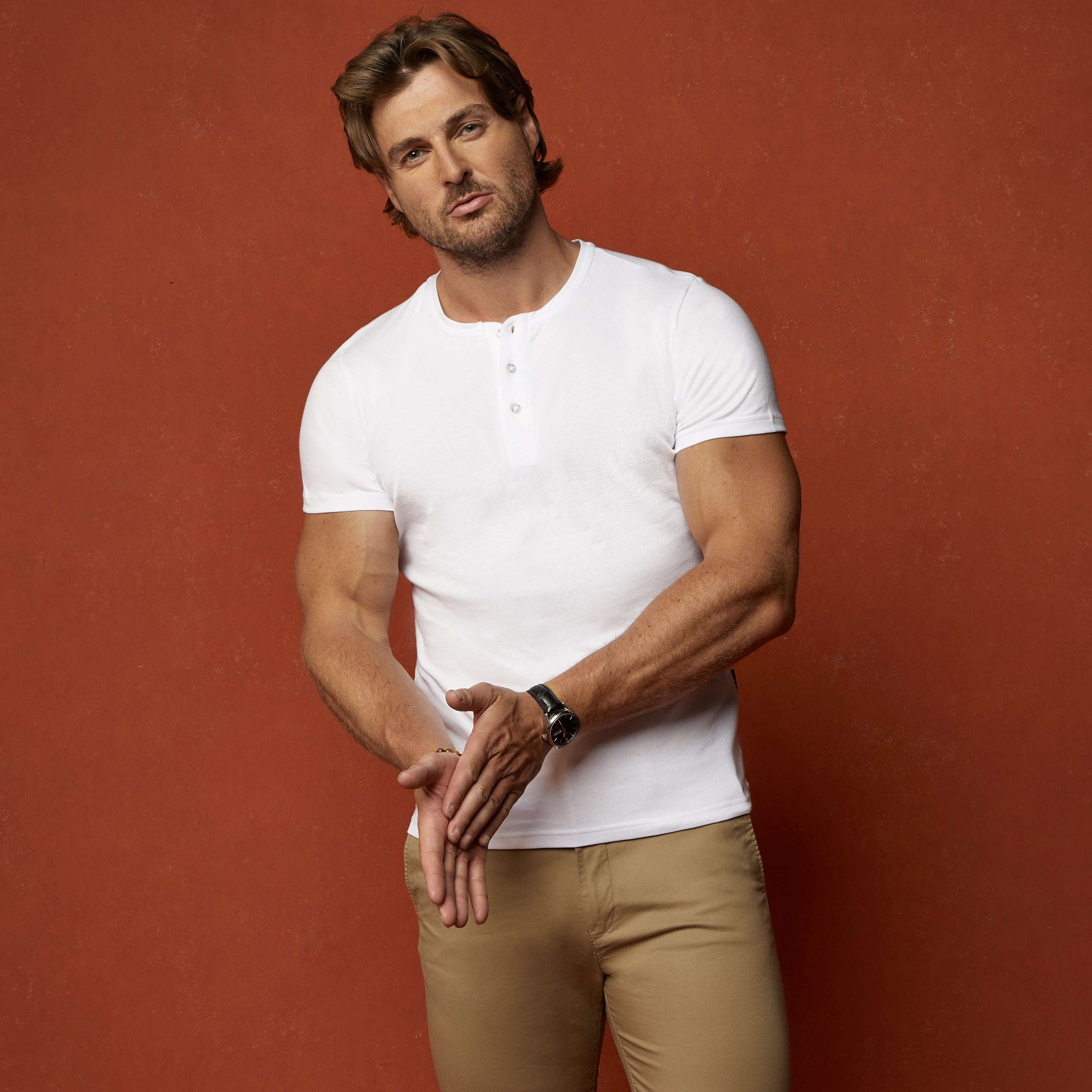 Tapered Fit Henleys
Physique enhancing, proportional Henleys with a slim fit like they're tailored for you. Premium quality stretch cotton providing both comfort and style. Whether you are slim or a muscular guy, our form fitting Henleys will mould perfectly to your shape.
Our mens slim fit henleys are expertly designed for slim guys bodybuilders with wide shoulders and a narrow waist. Tapered Henleys are perfect for your v taper body. No more fabric pooling around the midsection, a perfect fit from lats to waist. Our Henleys are made from luxurious, high quality, stretch cotton available in the basics - white, black and navy blue.
How Tight Should a Henley fit?
A henley should not be tight but fit finely in the chest and shoulders while tapering in sharply at the waist. Whether you are slim or a muscular guy our Tapered Fit Henleys are specifically designed to be form fitting. So that they are not overly tight, nor loose. Just a perfect fit on the male physique.
Where Can I Buy Henley Shirts
The best place to buy slim fit henleys is right here at Tapered Menswear. Our unique Tapered Fit was developed by leading tailors and designers to fit the male form perfectly.
Why Buy Slim Fit Long Sleeve Henleys For Men At Tapered?
Tapered Menswear offer the best henley shirts in the UK. Our unique design is the worlds first v-taper cut which fits to perfection. It's designed for those with wide shoulders and narrow waist to avoid the unwanted bagginess that normal off the rack henley shirts give. We go above and beyond with fabrics, craftsmanship and customer service.
Look and Feel Your Best in Our Fitted Henley
No matter what the occasion, our fitted henleys feel as good as they look and you'll love it just as much on your 100th wear as you would on the first time you try it on. With luxuriously soft stretch cotton, will fit and mould to your frame. Whether you are slim or muscular you will really feel the benefit of our fitted henleys.